As COVID-19 continues to impact on the screen entertainment business in India, Creative First aims to bring you regular updates on the status of India's exhibition, distribution, production and streaming sectors.
Cinema chains have recently announced that halls in Delhi, Kerala, Karnataka, Odisha, Rajasthan, Telangana, parts of Maharashtra and Union Territory of Jammu & Kashmir will be closed until the end of March.
Angrezi Medium, starring Irrfan Khan, released only a few days ago on March 13, suffered at the box office as a number of cinemas closed their doors – March 11 in Kerala, March 12 in Jammu & Kashmir, followed in quick succession by other states.
Trade analyst Komal Nahta made calls on the effect of theatre closures on current release titles: "It's a loss of Rs 25-30 crore for the makers of Baaghi 3. Theatres shutting down have also impacted the weekend business of Angrezi Medium," adding that the Hindi film industry stands to lose Rs 800 crore owing to delays in releases and shooting schedules."
PRODUCTION:
A number of film productions, television shows, web series and advertisements are stopping production until further notice, reflecting a global trend that has seen some of the world's best known series and film franchises call an immediate wrap. A joint decision to stop productions was made on Sunday, March 15, during an emergency meeting hosted by five leading industry associations – the Federation of Western Indian Cine Employees (FWICE), the Indian Motion Pictures Producers' Association (IMPPA), the Indian Film & Television Directors' Association (IFTDA), the Indian Film and Television Producers Council (IFTPC) and the Western India Film Producers' Association (WIFPA). Producers were given three days (to March 19) to strike shoots across India and abroad. A further meeting scheduled for March 30 will determine whether conditions are safe for productions to restart, or hold until a later date.
In the interest of the country, society and film workers, all the associations from the Indian film industry have taken the decision to shut shootings of films, TV serials and web shows across India from March 19 to 31", said JD Majethia, vice president, IFTPC. IFTDA President Ashoke Pandit said, "All the associations and industries across India – North, South or any other regional – are with us in this decision.
A number of current film productions are expected to take a financial hit from the halt. Viacom18 Motion Pictures' Forest Gump remake Laal Singh Chaddha, starring Aamir Khan, and Zee Studio's sports drama Jersey, starring Shahid Kapoor, will be the biggest productions affected by the decision.
Upcoming films Sooryavanshi and Marakkar: Lion of Arabian Sea, postponed their release dates and will be rescheduled in the comping weeks.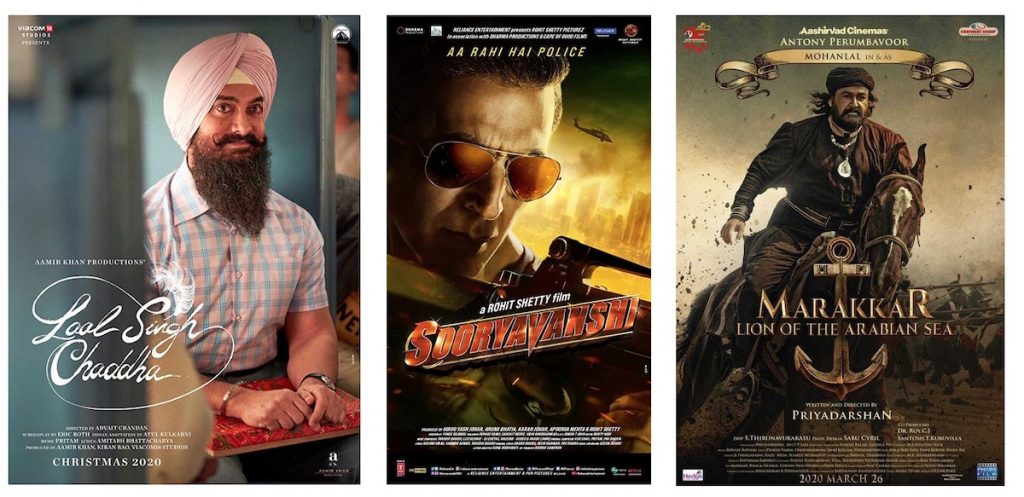 BROADCAST TV:
The decision to halt production will undoubtedly have the biggest impact on TV broadcasters, who rely on series to keep their audiences engaged. "We may have to run repeats of old shows for some time. This is an unprecedented situation and nobody was ready for this," a programming head of a Hindi general entertainment channel said.
SPORT:
Perhaps the biggest thing on TV – the annual Indian Premier League (IPL) cricket tournament – has been postponed to April 15 – though commentators are now suggesting the competition could be delayed until July or September or even later in the calendar.