Moses Ingram stepped off the stage at Yale and immediately onto the set of The Queen's Gambit. The acting newcomer had only two weeks between graduating from the Yale School of Drama in May of last year and flying to Toronto to begin filming.
"The first scene I filmed was a little snippet of the car pulling up and [me] stepping out of the car," Ingram said. "I definitely overthought it though because I'm like driving in this old-school, fancy car and they're putting sandbags down like don't drive too far."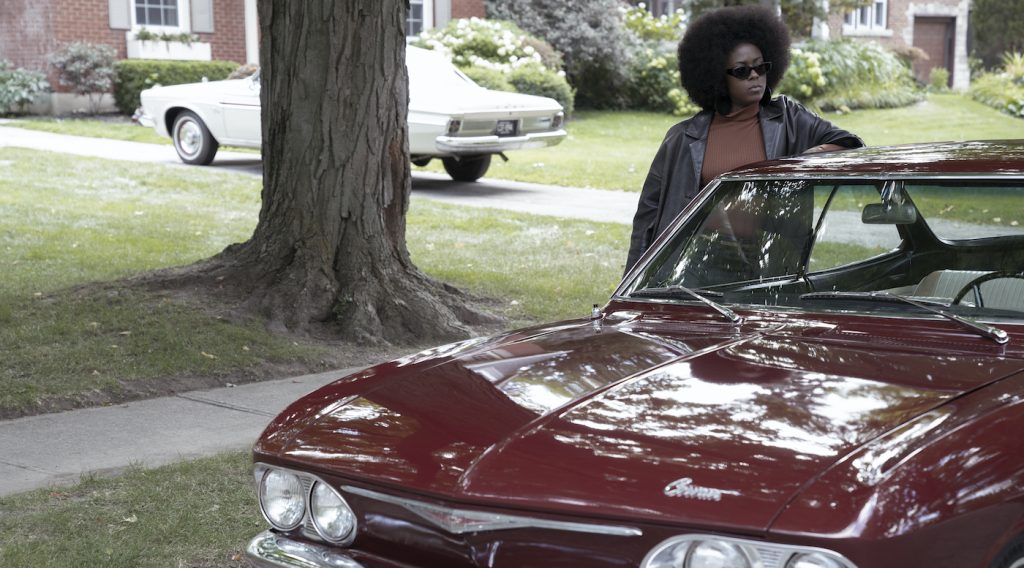 Translating her skills from the classroom to set was a magical experience for Ingram. So much so, that The Queen's Gambit writer/director Scott Frank invited her to set her first day to observe.
"I didn't have any scenes to shoot, but I was just around so they brought me down to set," Ingram said.
The Queen's Gambit has been frequently praised by critics and media alike for its excellence in all departments—from the lighting to the acting, to costuming and directing. For Ingram, it was the costumes specifically that she found to be an essential part of getting into character.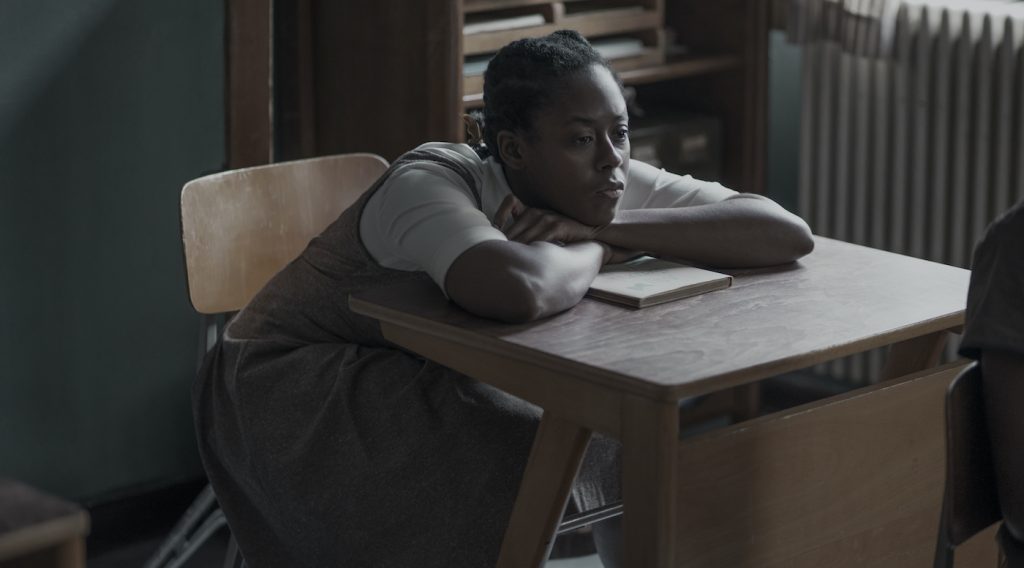 "It really kind of just started in my body…especially once you put the clothes on and are actually surrounded by other younger people who all thought I was 14," she said laughing. "I kept trying to tell them, 'No, you guys, I'm actually an adult.'"
Jolene first appears onscreen as a lonely, misunderstood teenager and has fully blossomed into a strong, successful woman by the final episode. Ingram seemed unperturbed by the difficulties of portraying a character at so many different stages in life, and rather embraced the challenge with the same tenacity adult Jolene displayed for embracing life.
"Standing a little more solid was I think the main thing, and being grown and taking space in a way that she couldn't when she was younger," she reflected on playing Jolene's transformation.
And while teenage Jolene provides comedic relief, it's adult Jolene that drops bits of sage wisdom. One of the most profound scenes in the show, the "guardian angel" scene, where Beth and Jolene have a conversation on the squash court, was also one of the first Ingram used to audition for the role. Ingram says it was that dialogue that immediately drew her to the project.
"I think I was most intrigued by the fact that Jolene was like damn, you know, I hope you would do the same thing for me," Ingram said. "Because that's what love is."
Ingram went on to reflect on the strong connection between the two "sisters" that stood the test of time.
"I think Beth would do the same thing for her, I think they go way back," she says. "I think it was more so — as cliché as I'm about to make it sound — 'You're my sister and I love you, and this is what we do.' And I imagine it's like when you grow up in a place that's so flawed on so many levels (I mean giving kids tranquilizers) — I hate to say they're bonded by trauma but in a way they are. And I think at that moment Jolene is saying we are more than our trauma."
But for Ingram, it wasn't this pivotal scene that was her favorite to film on the show, but rather a more somber moment.
"The funeral scene. It was kind of late, but it was dark outside, and it was cold and the day before had been long. I think it's mainly just the one line of Beth being like, 'I owed him $10,' and we're sitting in this man's funeral…it's like, 'Is that really what's on your mind?' I was really laughing at that, I thought that was funny," she laughed.
Ingram said she is still getting used to existing in this world and adjusting to a career as an actor but feels she's been on "a blessed path at this point." Although The Queen's Gambit served as her debut, Ingram was acting long before the world of chess and 60s wardrobes came into the picture.
"I started acting when I was probably 9, 10…something like that. My teacher thought it would help with my behavior," Ingram recalls. "I was very blessed to have teachers who saw me early on. I had a teacher who would send me on errands around the school to get whatever and she would tell me what accent to do."
Once Ingram fell in love with acting, she said the consequence of not being able to act "became a bargaining chip" for good behavior. As long as she behaved accordingly, she could continue acting. And act she did, all the way from her home city of Baltimore to Yale University where she chose to go by a new name: Moses. Moses isn't a name typically heard in reference to anyone other than the famed, Biblical prophet—the same prophet that inspired Ingram's stage name.
"So when we got to school [Yale] they wanted us to register our names because this is the first time they would be publicized so people can see them," Ingram explains. "And before I got to Yale I had, had such a time just trying to make things work that my name just didn't feel suited. So I prayed and asked God, 'What is it? I know it's not my name now, but it is something.' And a few days later, I just heard Moses in my head and that was it."
And it seems to be working out for her just fine. Along with The Queen's Gambit, Ingram starred alongside Denzel Washington as Lady Macduff in the upcoming Macbeth, set to be released in the summer of next year.
"I'm definitely excited for people to see it," Ingram said. "It really was an experience that when I look back on it it feels like something that I made up because it just sort of fell together in a way that was that organic."