It might seem as if Everything Everywhere All at Once came out of nowhere to dominate this year's Oscar voting with 11 nominations, including Best Picture, Best Actress, Best Supporting Actor, and two Best Supporting Actress nods for Michelle Yeoh, Ke Huy Quan, Stephanie Hsu, and Jamie Lee Curtis respectively. But in fact, producer Jonathan Wang has been working with writer-directors Dan Kwan and Daniel Scheinert since 2011. The trio started off making music videos and broke into features with their 2016 black comedy Swiss Army Man.
Then came Everything. Since making its debut at SXSW last March, the sci-fi action dramedy has grossed $104 million at the global box office en route to its Academy Awards triumph. By tracking the multiverse adventures of Yeoh's downtrodden Chinese-American laundromat owner Evelyn Wang as she ricochets between alternate versions of reality, Everything Everywhere All at Once became 2022's most spectacular indie film success story.
Wang, who splits his time between Los Angeles and New York, talks about the importance of good vibes, details the filmmakers' takeover of an abandoned bank, and recalls how the Daniels maverick choices helped catapult a former child actor into the Academy Awards race.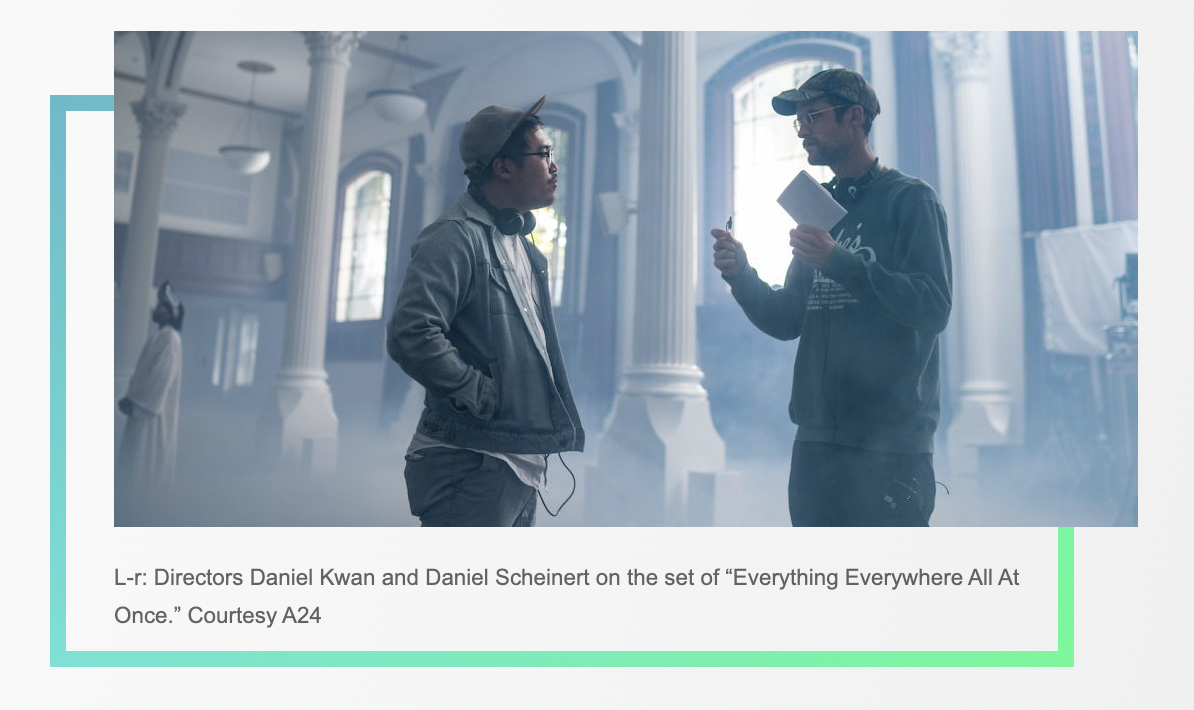 You've obviously forged a fruitful relationship with Dan Kwan and Daniel Scheinert. What makes your collaboration work?
I'm in a cultural meld with the Daniels. Whether it's global warming or the attention economy, I read the same books and we speak the same language. When it's time to make a movie like Everything, we're in lockstep on how to make it, and we do it with kindness and love. Daniel Scheinert likes to joke that we're summer camp counselors and I'm the vibes police, so it's my job to make the set feel very free, playful, kind, and open.
How does that translate to practical situations?
I do whatever it takes to help them. On Everything, I'd pick up a second camera to set up a shot and rehearse it with the actors, then one of the Daniels would come over and shoot it. I'm like a third leg. I know how to separate the wheat from the chaff. The Daniels don't need to see everything 360 if we're going to shoot one set at a specific angle. We can put up some other set directly behind us, turn around and shoot that set two minutes later. This is how we pulled off the movie.
The pandemic affected virtually every movie that came out last year. How did Covid impact Everything Everywhere All at Once?
The biggest bummer is that we still haven't had a wrap party! We had two more shoot days to go on Friday before the pandemic shut down the world. The beauty of it is that we had more time to edit the movie. [Studio] A24 kept the coffers open, and we edited for essentially a year until the movie finally sang at a fever pitch.
Everything has earned Oscar nominations for Michelle Yeoh, Ke Huy Quan, Stephanie Hsu, and Jamie Lee Curtis. How did The Daniels go about assembling this phenomenal cast?
We always wanted Michelle in the movie as Evelyn, but originally she was going to play the [supportive spouse] role that Ke played. Then they got gender-swapped and Michelle became the lead. The whole movie blossomed because Michelle's character is loosely based on Dan Kwan's mom, who's very similar to Evelyn. Dan was able to write from a much deeper place of truth and unlock the mother-daughter relationship.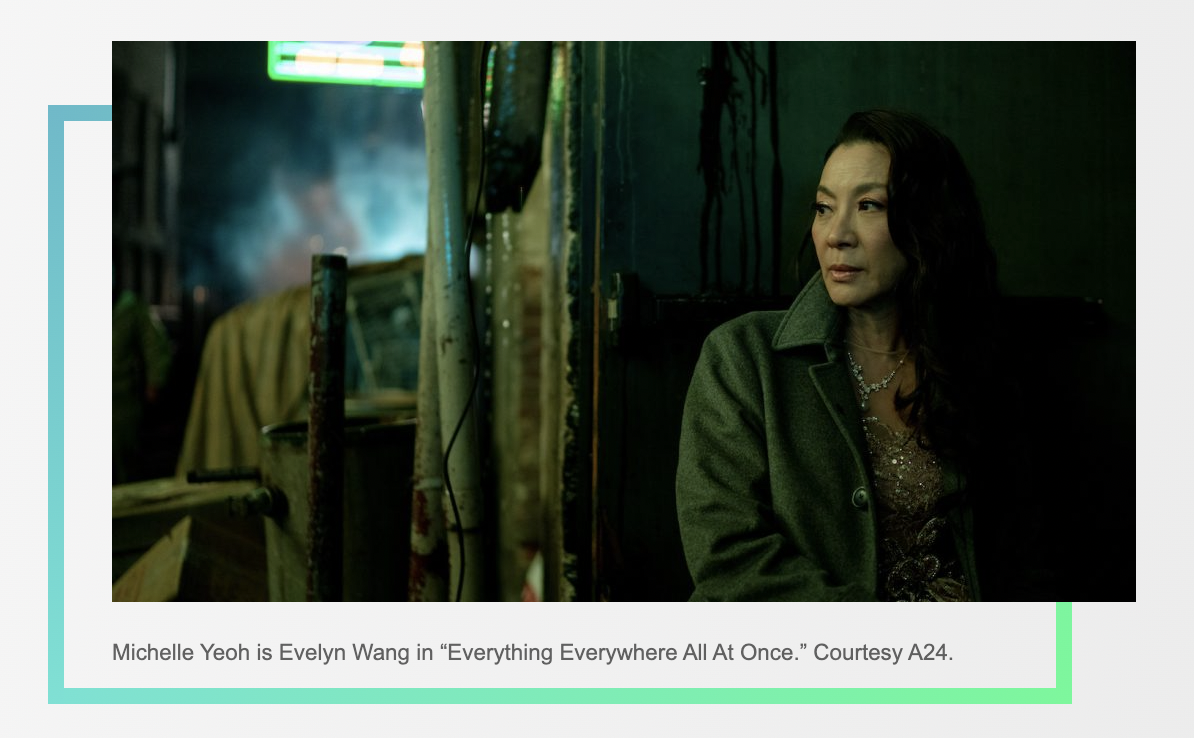 The other person in that mother-daughter relationship, Joy, is portrayed in such a dynamic way by Stephanie Hsu. Where did you find her?
Originally Awkwafina was supposed to play the daughter. We met Stephanie on an episode of Awkwafina Is Nora From Queens that the Daniels were directing. Stephanie had a supporting part, and they fell in love with her. When Awkwafina fell out due to scheduling conflicts, Sarah Finn, our casting director, called Stephanie. She understood the movie we wanted to make, and Stephanie knew how to bring this chaotic, terrifying energy to the role. Daniel said it was like watching Jim Carrey in "The Mask."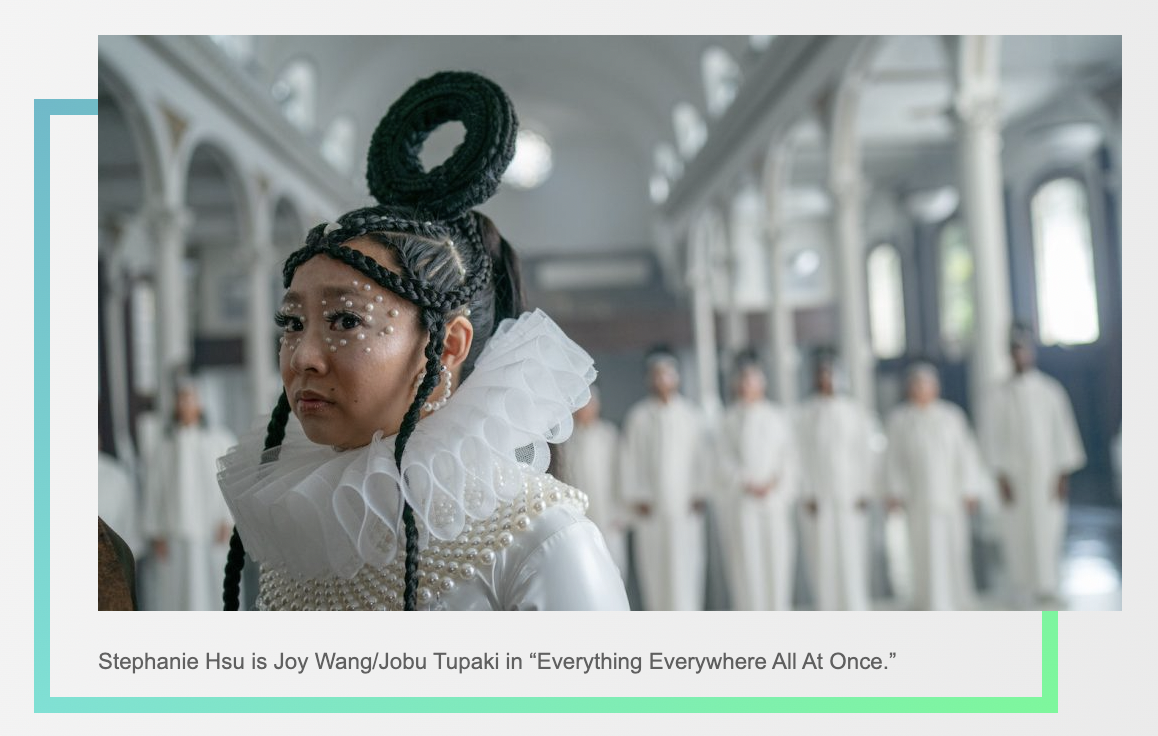 You guys went off the beaten path to cast former child star Ke Huy Quan as Evelyn's seemingly mild-mannered husband Waymond. How did that happen?
Ke was the most inspired bit of casting. I remember walking into Dan Kwan's apartment. He had a photo on his screen of an adult Ke and asked me, "Do you know who this is?" Then he pulled up a photo of Data from Goonies and said that's who this is. Then he pulled up a third video of Ke as a teenager when he couldn't find work in the U.S. and went to Hong Kong. It shows him doing incredible martial arts, kicking, and throwing sand in the other guy's face, and I went, "Whoa." Because this whole time, we'd been looking for somebody who could do martial arts but wasn't an alpha male with big muscles. We wanted someone who could be tender, a beta male. And I said, "Before we get too excited, I'm not sure if Ke's still acting — let's see if he has an agent." I came to find out that only a week earlier, Ke had gotten his agent back. Had I reached out a week or two sooner, we probably would have had to look in a different direction.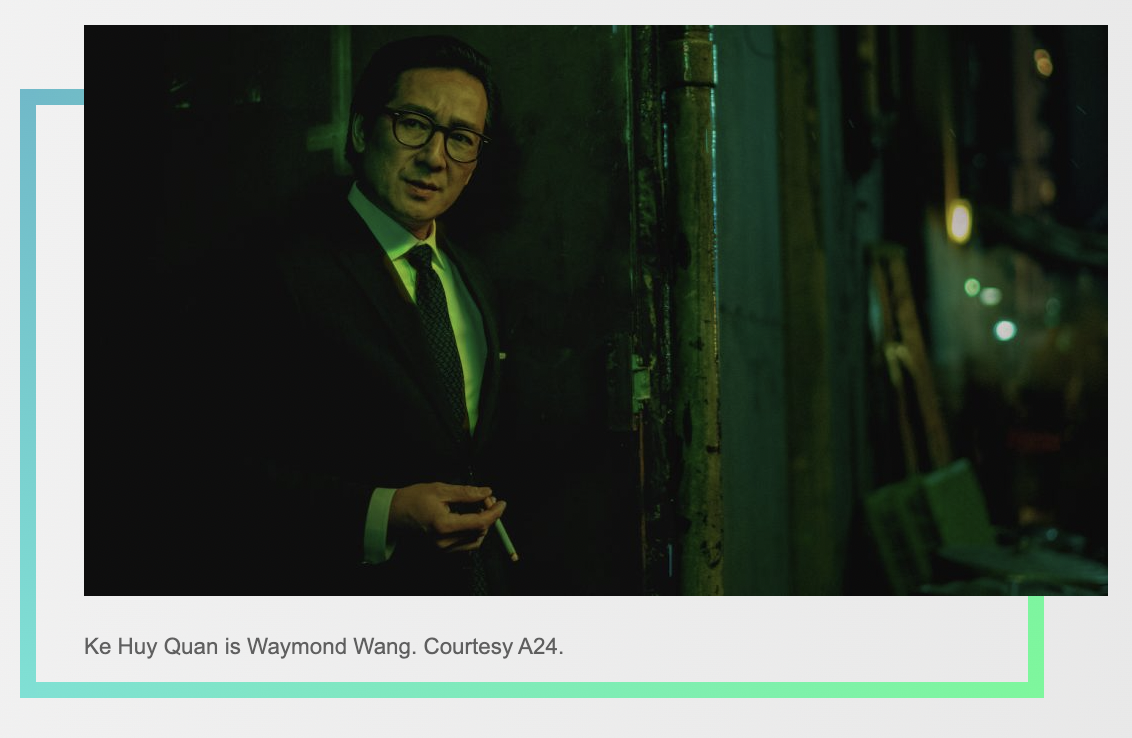 Jamie Lee Curtis kills it as the initially hard-nosed IRS agent Deirdre.
Jamie works off intuition and gut feelings. She makes snap decisions with such confidence. Jamie read the script, saw Michelle was attached, and just jumped in the deep end. At SXSW, with tears streaming down her face, Jamie walked up to us and said, "Now I get it.'"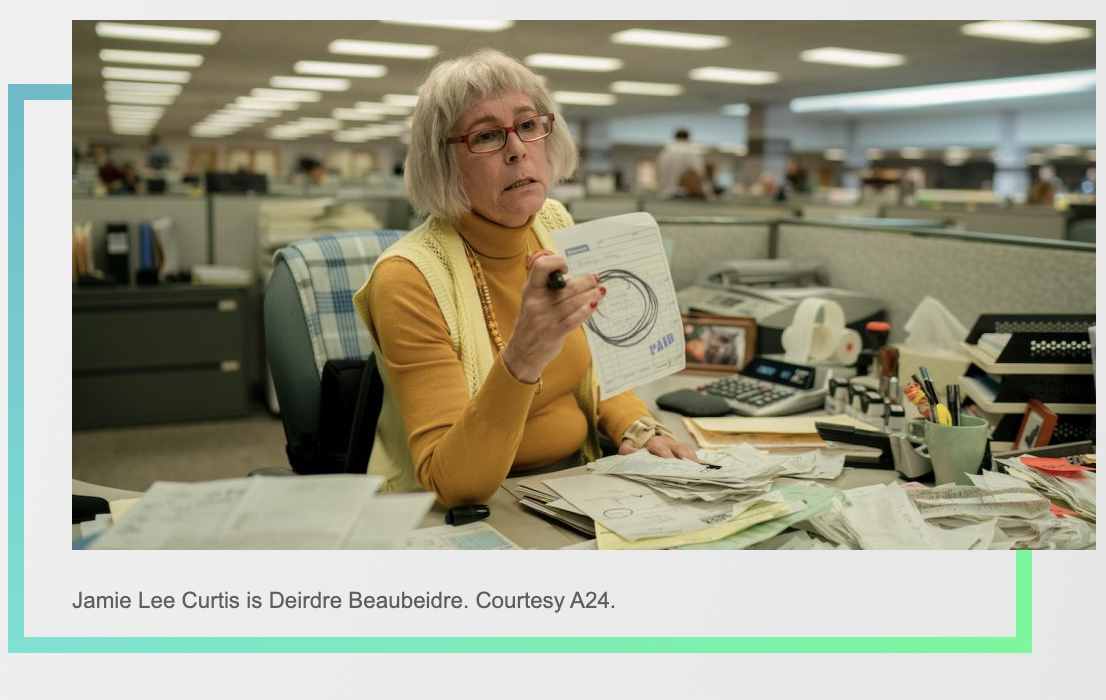 The chemistry between actors translates really well on screen.
Whatever we had going with Michelle, Stephanie, Ke, and Jamie, that kindness and love were felt by the audience because it was so real on set.
Everything presents a lot of multiverse environments. Where did you film the movie?
In Simi Valley [outside of Los Angeles], we found Founders Bank, which collapsed during the 2008 financial crisis. It became a call center. Now it's an Amazon fulfillment center. During this window of time when it was available, we turned it into our mini-studio lot. So it was five weeks in Simi Valley and one week bouncing around different locations. We did the movie star universe at the Los Angeles Theatre. We went to a hibachi restaurant to do the raccoon universe. We shot Evelyn's coin laundry in a San Fernando mall. And then, during the peak of the pandemic, we went out to Borrego Springs and filmed the rock universe in 115-degree weather. We were a $14 million indie movie, so we had to stretch the dollar so we could get the ambition of the movie out there.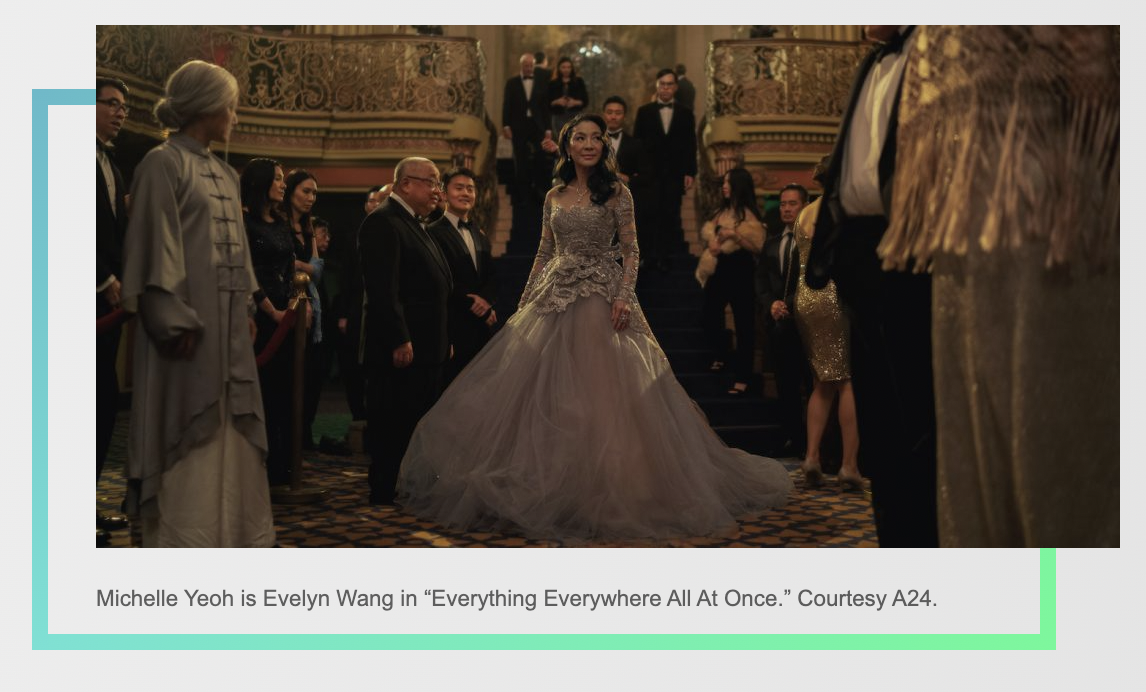 On the business end of things, can you talk a bit more about making this budget work in terms of agents and studio execs?
When you talk to an agent about fees on a movie of this size where nobody's going to get rich, it's about explaining the vision and how important it will be for their actors to be a part of this. And with the studio, it's about working together to solve a problem. It's like I have a big shield on my back that encapsulates the set, and then all the agency and studio relationships hit me, but I don't view them as being adversarial.
Everything Everywhere All at Once struck a chord within the culture. When did you first have a feeling that this movie might be something special?
I was in Romania making a film with William Dafoe when the trailer came out. I started reading the responses, and they were all positive. There was kindness on YouTube for the first time in the history of YouTube! I was like, wow, I think this is going to hit.
Why do you think Everything landed in such a big way with audiences?
If you think about the premise of the multiverse, you can use it as a foil for action and fun and absurdity, as we do, but if you also think about it as psychology, it's almost like cognitive behavioral therapy: the structure of the movie allows people to ask themselves "What if I had a healthy relationship with my mom? What if I had a healthy relationship with my husband?" People have come up to us and said, "I'm a gay boy who wanted to come out to father. I brought my parents to this film." People use this movie to find healing with their parents or loved ones. 
This article was first published on The Credits