BRICS Film and Technology Symposium – Day 1
01.09.2021
By I&B Ministry, GoI; FICCI
As part of #AzadiKaAmritMahotsav, the Ministry of Information and Broadcasting has organized the first ever 2-day BRICS Film and Technology Symposium.
Here are a few key takeaways from the inaugural address, chaired by Mr. Dilip Chenoy, Secretary General, FICCI.
"The relevance of audio-visual cooperation between BRICS countries is one of the possibilities of market exploration and cultural diffusion," Mr. Mario Frias, Special Secretary for Culture, Federal Government of Brazil.
"This symposium is the beginning of a new journey in cinematic partnership, and India is proud to have initiated the first step. Through this event, we hope to explore the various possibilities of enhanced collaborations, including formal mechanisms for student exchange programs among the leading film institutes of our country," Apurva Chandra, Secretary, Ministry of Information & Broadcasting.
"During the chairmanship of India, we aim to promote institutional building to further deepen, sustain and institutionalize BRICS cooperation. It is important to win the hearts & minds of the people from all BRICS nations & a film symposium is an event that brings together one & all through the medium of cinema technology," Mr. Anurag Thakur, Minister of I&B, Sports & Youth Affairs, GoI.
In the first session, titled Leveraging Opportunities between BRICS Nations, the panelists discussed how BRICS nations can create a new framework for co-production, exchange of talent pool resources, creativity, funding and tech collaboration. A few takeaways: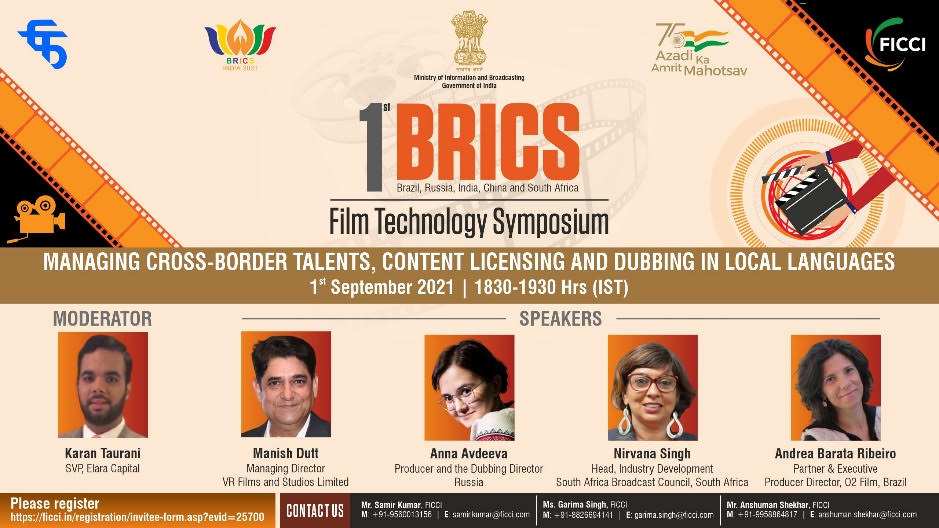 "In order to really have authentic content, there is nothing more important than this BRICS partnership & harnessing that," Mr Nick Daryanani, Producer, Frame 24, Hongkong.
"Although the BRICS Film Festival is held annually, there is a need to take it to Tier-2 cities," Ms Arunaraje Patil, FTII Alumni, Member of FTII Academic Council and Eminent filmmaker.
"Creating a common space would mean an increase in the amount of content that would travel among BRICS countries,"Ms Ekaterina Pshenitsyna, Head of the International Department, Central Partnership, Russia.
"The BRICS Film Festival is low-hanging fruit. We need to leverage in the BRICS agreements. In 40 years, BRICS is going to have a larger GDP than the G6 countries," Ms Xoliswa Sithole, Producer and Director, South Africa.
"India produces 3 times more films than Hollywood. There is a unique opportunity for the entertainment sector to get together and produce across the board," Ms Lindalias Reis, Co-Founder, Riowood & VP, Chamber of Foreign Commerce, Brazil.
The next session, titled Managing cross-border talents, content licensing and dubbing in local languages, talked about the need to build an ecosystem that enables effective collaborations across BRICS countries. Below are a few takeaways: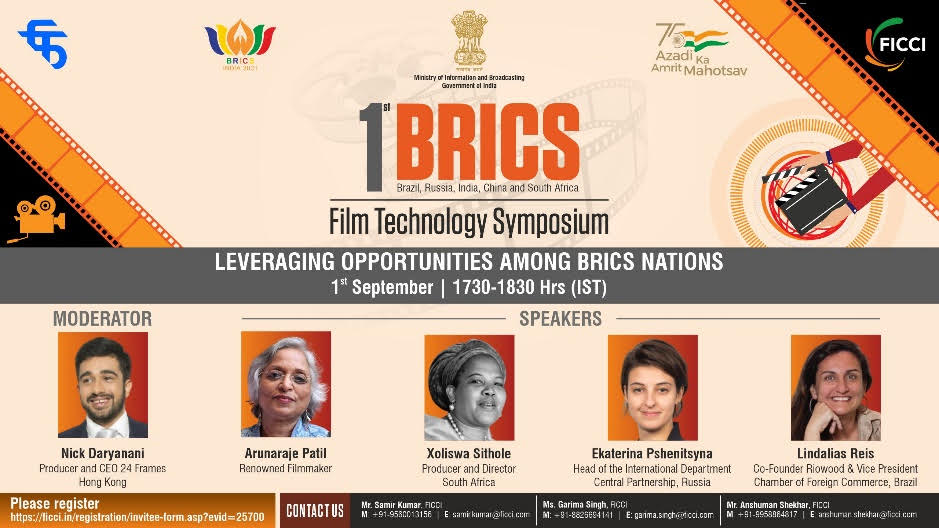 "5G will be a game-changing move that will drive video consumption to another level and increase broadband penetration in India," Mr. Karan Taurani, SVP, Elara Capital.
"TV platforms have increased their TRPs with dubbed content and it helped television to reach a wider audience," Mr. Manish Dutt, Managing Director, VR Films and Studio.
"OTT and traditional television are both equally important means of consumption. There is demand for good quality content and always be," Ms. Anna Avdeeva, Producer and the Dubbing Director, Russia.
"A lot of tax incentives have been offered in South Africa, and as a result a lot of foreign players have come in. However, Covid-19 had impacted foreign production, and since costs have gone up, it remains to be seen if the tax incentives will suffice," Nirvana Singh, Head, Industry Development, SABC, South Africa.
In the last session of Day 1 of the BRICS Film and Technology Symposium, Technological Collaboration – Preproduction, Postproduction and VFX, the panelists discussed the prospects of the VFX sector in terms of innovation, growth and contribution to filmed entertainment. Here are a few takeaways from the session: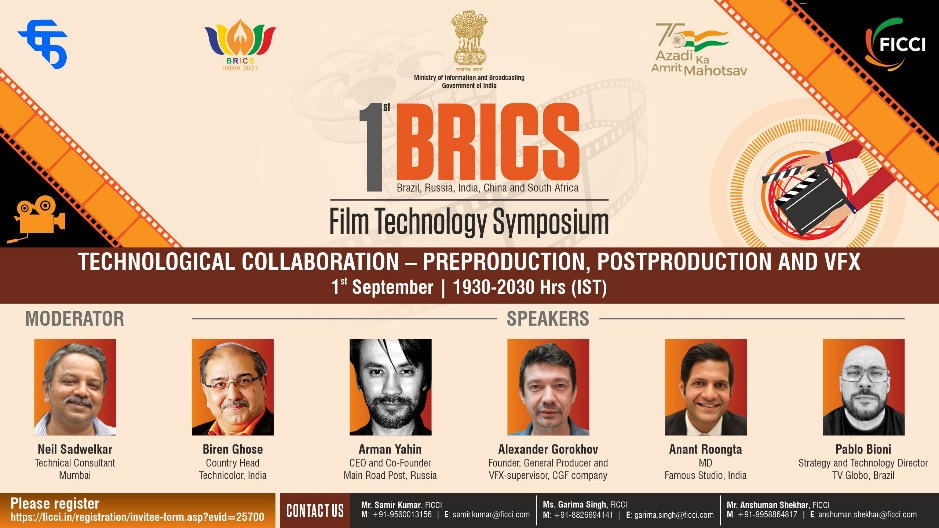 "We are in a position to create a BRICS Creative cluster using our respective talents, and competencies. We can create a virtual clout in the industry," Mr Biren Ghose, Country Head, Technicolor.
Russia is going global, we are working with global OTT platforms. We have moved from service sector to producing our own shows for OTT platform," Mr Arman Yahin, CEO- Cofounder, Main Road Post, Russia.
For more insights, please view the video above.