BRICS Film and Technology Symposium – Day 2
02.09.2021
By I&B Ministry, GoI; FICCI
Day 2 of the BRICS Film and Technology Symposium was conducted as part of #AzadiKaAmritMahotsav. The first of its kind symposium was organized by the Ministry of Information and Broadcasting, GoI, in association with the Film and Television Institute of India (FTII) and the Federation of Indian Chambers of Commerce and Industry (FICCI).
The first session of the day, Enhancing film viewing experience using recent technologies, focused on Virtual and Augmented Reality content creation: how innovators are creating compelling VR and AR content, and how technology is enhancing the viewing experience. Below are a few takeaways from the session: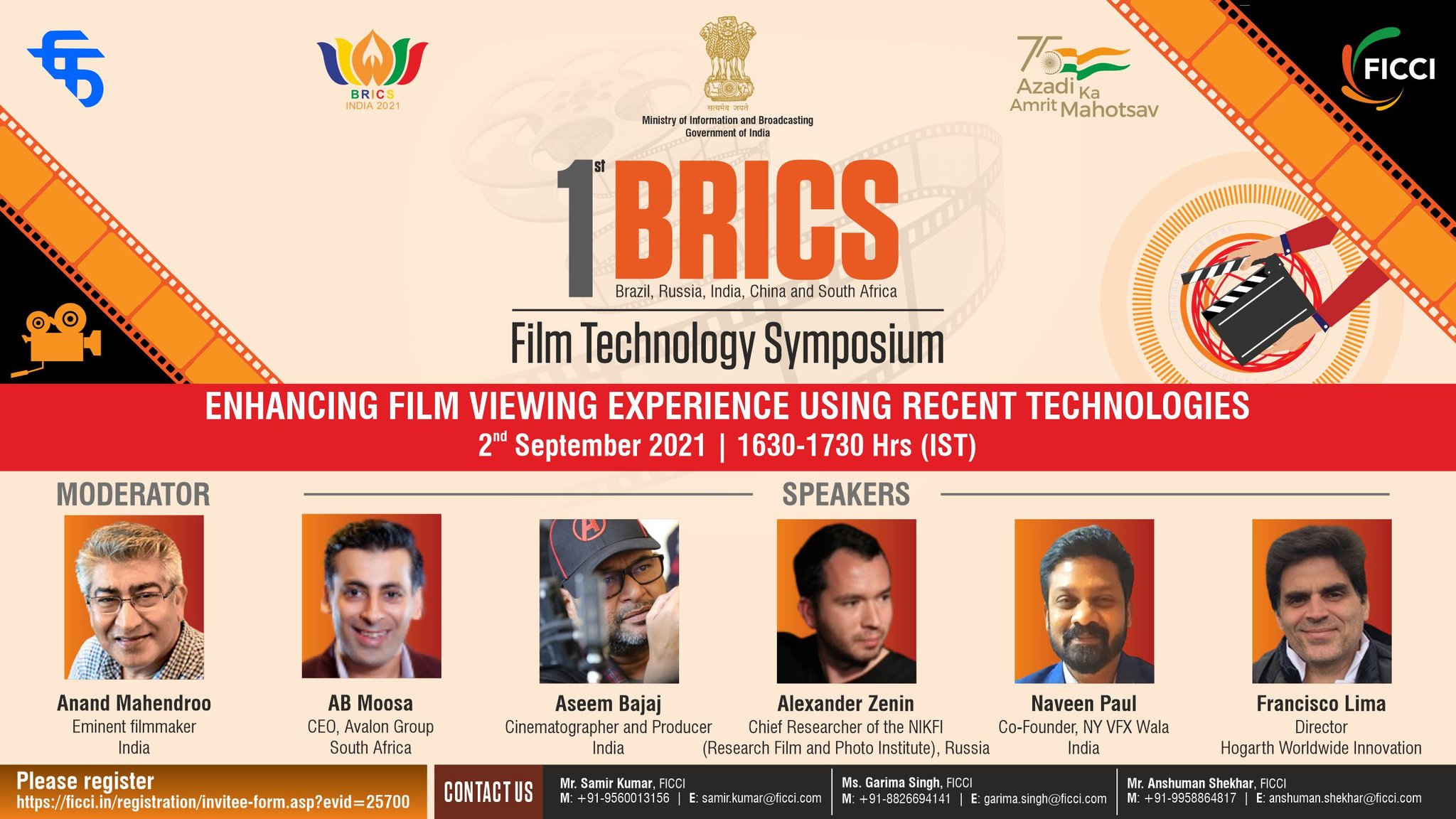 "In Russia, Research is focused on screening quality and augmented reality," Mr Alexander Zenin, Member, Union of Cinematographers of the Russian Federation, Chief Researcher of the NIKFI (Research Film and Photo Institute), Russia.
"In China, VR technology is very very fast. We are using VR technologies not in big cities but in small cities as well," Mr Lei Zhenyu, Chief Engineer, China Film Group Corporation.
"Augumented Reality and Virtual Reality or 'Extended Reality' as it is now often referred to, is the next chapter in this revolution brought about by technological advancements," Ab Moosa, CEO, Avlon Group, South Africa.
"20 years ago, VFX was not used in India as it was used abroad. But today things have changed to the extent that VFX has become an integral part of filmmaking and storytelling. Earlier in Bollywood the kind of jobs VFX technicians would do were cable erasing, etc. but now the entire shot is created in VFX, including some characters," Naveen Paul, Co-founder, NY VFXwala, India.
The second session of the day, Tomorrow's Strategies – Understanding Animation Globally with a Spotlight on the BRICS Market, discussed how animation remained relatively resilient to COVID-19 and successfully catered to the rising OTT demand despite pandemic restrictions. A few takeaways from the session: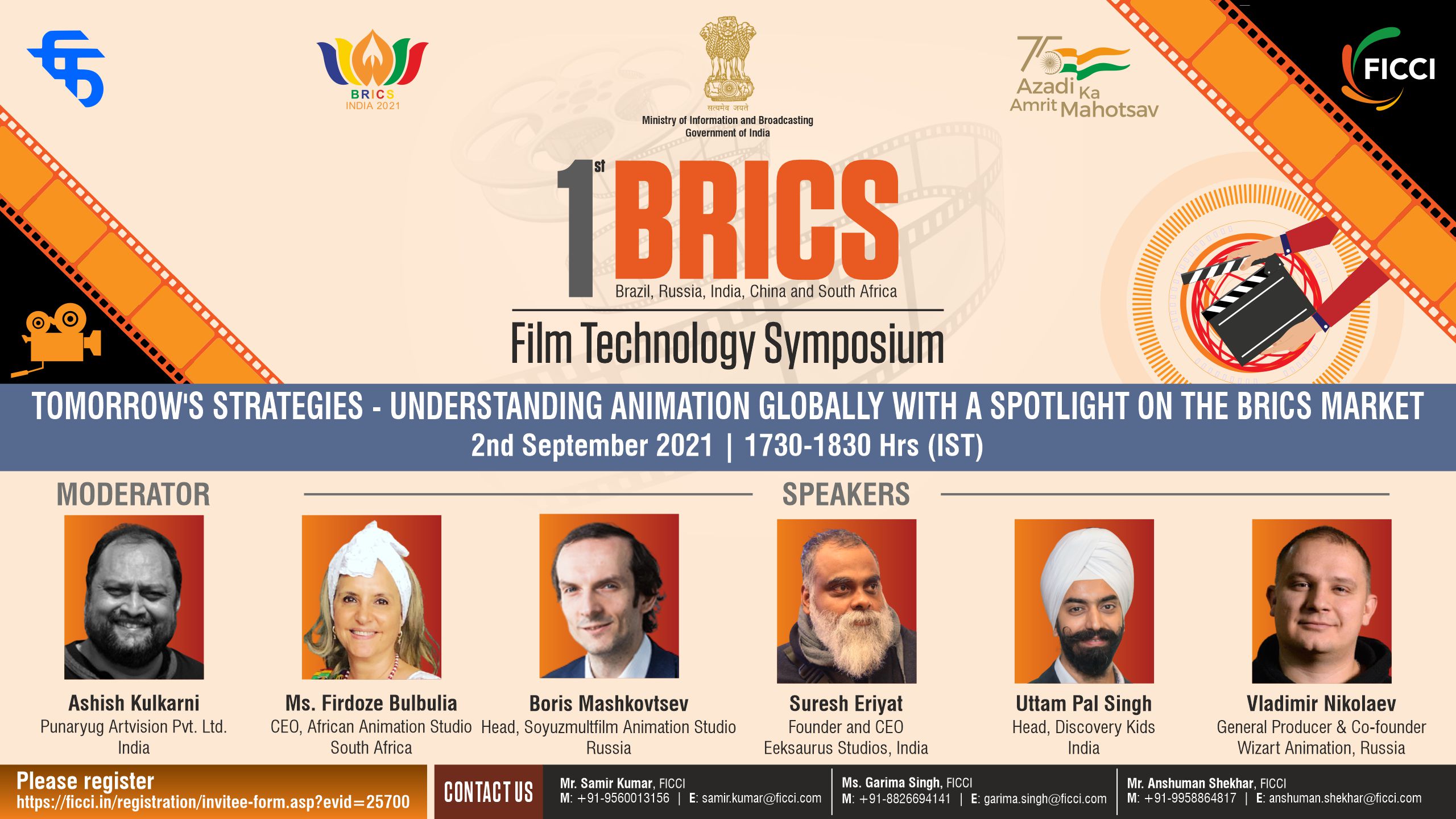 Mr Vladimir Nikolaev, General Producer & Co-founder, Wizart Animation, Russia said, "My dream is to create some local story, like fairy tale from India, as India is a diverse nation."
We have a huge responsibility as BRICS countries. We need to see what is good for our children," Ms Firdoze Bulbulia, CEO, African Animation Studio, South Africa.
"In linear platforms like TV, the content is skewed towards boys: it's a ratio of 65:45. However, when it comes to OTT platforms, there is a demand for content targeted towards girls, and it is being delivered to them as well," Uttampal Singh, Head, Discovery Kids India.
"This whole deal of spoon-feeding children in the name of entertainment, making it contrived and sloppy is something that I feel one should avoid as kids would outright reject it," Suresh Eriyat, Founder and CEO, Studio Eeksaurus, India.
For more insights, view the video above.