*It's our annual "Best of Summer" look back at some (not all) of our favorite interviews from the past few months. This non-comprehensive look back includes the Barbenheimer phenomenon and the wonderful interviews that followed those two history-making films, chats with the talented folks behind Mission: Impossible, Spider-Man: Across the Spider-Verse, our profile of MPA Creator Award Recipient and filmmaker extraordinaire Gina Prince-Bythewood and more.
When he returned to feature filmmaking, writer/director Clement Virgo followed his instincts. Since his last feature, Poor Boy's Game (2007), Virgo has been directing TV, working more or less nonstop. He's directed episodes of Empire, Netflix's Dahmer- Monster: The Jeffrey Dahmer Story, and OWN's megachurch drama Greenleaf. He was thinking about getting back into features when a friend handed him a copy of David Chariandy's novel "Brother," about two Trinidadian immigrants in the Toronto suburb of Scarborough during a smotheringly hot summer in 1991.
"I just knew I had to make it," Virgo says. "I knew the feelings in the novel, and I knew a way into it."
Virgo's adaptation is a gorgeously wrought, quietly powerful return to filmmaking. He marshalls all of his gifts and his years of experience to tell the story of two brothers, Francis (Aaron Pierre) and Michael (Lamar Johnson), deftly teasing out their story along three separate timelines, covering some twenty years of their life in Scarborough to a staggering climax, complete with a gorgeous coda. Brother stays with you—the performances, the recurring motifs, the soundscape (both composer Todor Kobakov's score and the hip hop that's such a huge part of Francis's life), the specificity. In Virgo's hands, the whole thing appears effortless, the mark of an artist who focuses his efforts on the right things.
Clement screened the film at a Motion Picture Association event this past May in Washington, D.C., co-hosted by the Canadian Embassy, in recognition of the MPA's partnership with the Black Screen Office. We spoke to Virgo about returning to filmmaking with such an assured, devastating new movie, why specificity creates intimacy between a viewer and a film's subjects and more.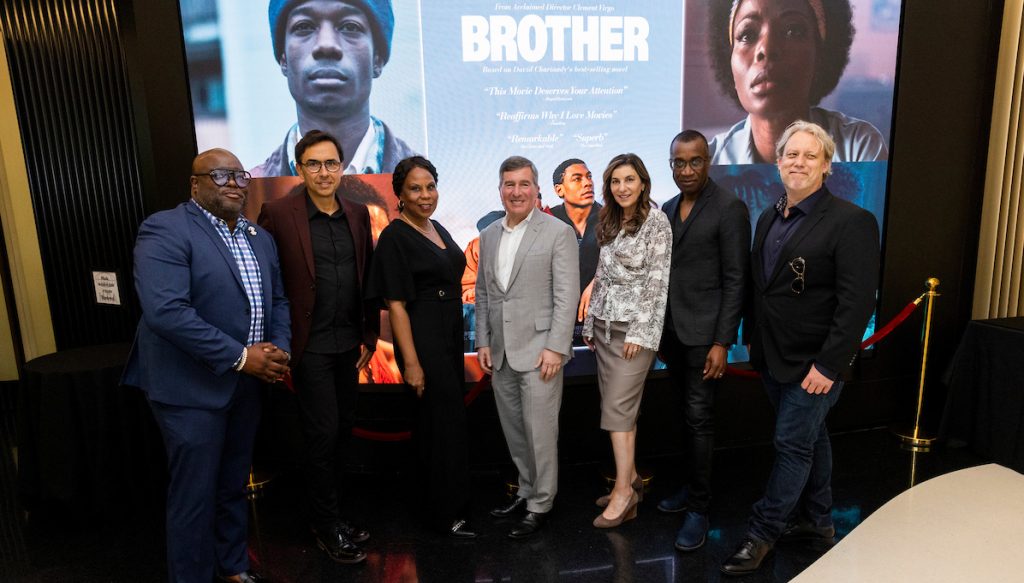 What was it about David Chariandy's novel that made you think, 'I have to adapt this'?
It was one of those novels that just spoke to me. Like a lot of artists, you don't know why you're drawn to something, but this spoke to me in a visceral way and caught me at a time when I wanted to go back to being a filmmaker. I knew the feelings in the novel, and I knew a way into it.
You thread three storylines in such a subtle way, and I'm curious how difficult that was at the scripting stage.
I was very conscious of trying to do something structurally new for me. The great thing about attempting that is that I'm not the first person to try it. I went back and looked at certain films that I thought were very successful at it. I looked at The Godfather Part II, which had that parallel storyline between the father and son. I looked at Manchester by the Sea, which I thought was a beautifully structured film. I find screenplays are really about structure, and once I found the architecture for the story and how each moment and each timeline influences the next and informs what we just saw, I had it. Filmmakers have been playing with structure and time since Orson Welles and D.W. Griffith.
The performances you get from Aaron Pierre and Lamar Johnson are so powerful. As someone who has worked with actors for decades now, I'd love to hear how you managed your relationship with them.
In terms of process, I think every actor has a different methodology for how they work. One of the great things about working in television is that sometimes you haven't had a chance to meet the actor, and the first time you do is on set. If it's an ongoing series, you even haven't cast them, so you don't have a rapport. So you have to figure out very quickly what they need and what motivates them, and how to be a great audience for them. The great actors are very creative, and if you stay open to that, you get great ideas from them. They make the character so much richer than what you've written on the page. And Aaron Pierre and Lamar Johnson brought great ideas to Francis and Michael.
And how were you a good audience for them?
It was to try to help guide them in a subtle way. It's a cliche, but it's really a collaboration; it's trying to be thoughtful and emotionally intelligent about how to inspire, when to push, when to leave them alone, when to encourage, and when to shut up. It's all the things that you do in any relationship, you're trying to figure out how to be a good partner and collaborator.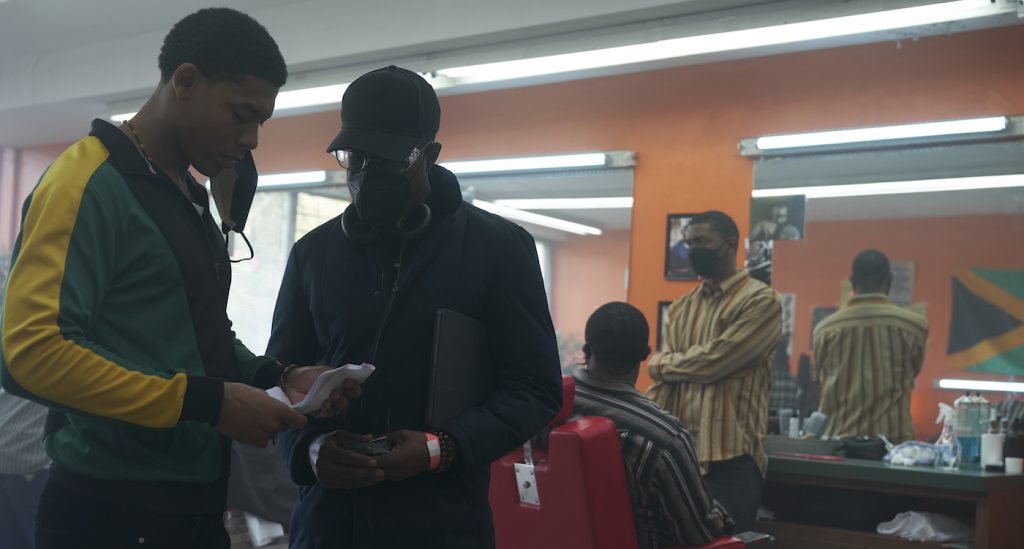 Your film manages to show, often through the unspoken physicality of how Francis and Michael go through the world, the impact of all the forces arrayed against them—the police, their relationship with their hardworking but often absent mother (a wonderful Marsha Stephanie Blake), their being Jamaican immigrants in a Toronto suburb. I'm wondering how much of that direction and how much is pure performance?
I think it's really a bunch of different things. It's cinema in terms of what is the image saying? What are you communicating with that image? What's the body language, what's the behavior telling you or not telling you? And how do I, as an audience member, interpret that image? The films that I love communicate through pure cinema. I think that's the difference between television and film. I just read something that Christopher Nolan said about cinema that's really interesting. He said that a lot of people think cinema is about plot, but it's really an audiovisual experience. I thought about that for hours after because it's true. As a filmmaker, what you're trying to do is communicate a feeling, a tone. You're trying to immerse the audience in an experience. Everything is story.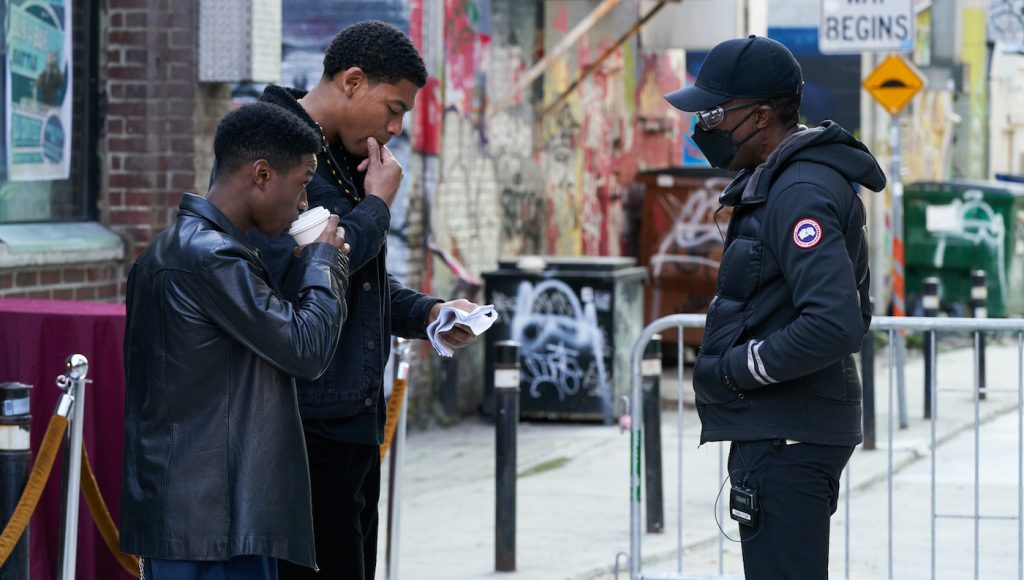 Every constituent part within a film is telling one story?
The costumes are story. The set design is story. The lighting is story. You're trying to communicate non-verbally and have the audience feel something and take something away from the film. How Aaron Pierre walks into a room, what he's wearing, is the camera with him and subjective, or is it watching him and slowly moving in? It's all the language and tricks of cinema. Sometimes that stuff is intuitive. You don't know why you do it. I think most writers and filmmakers, most artists, actually, are trying to create meaning out of their own lives. It's kind of impossible to hide who you are in your work.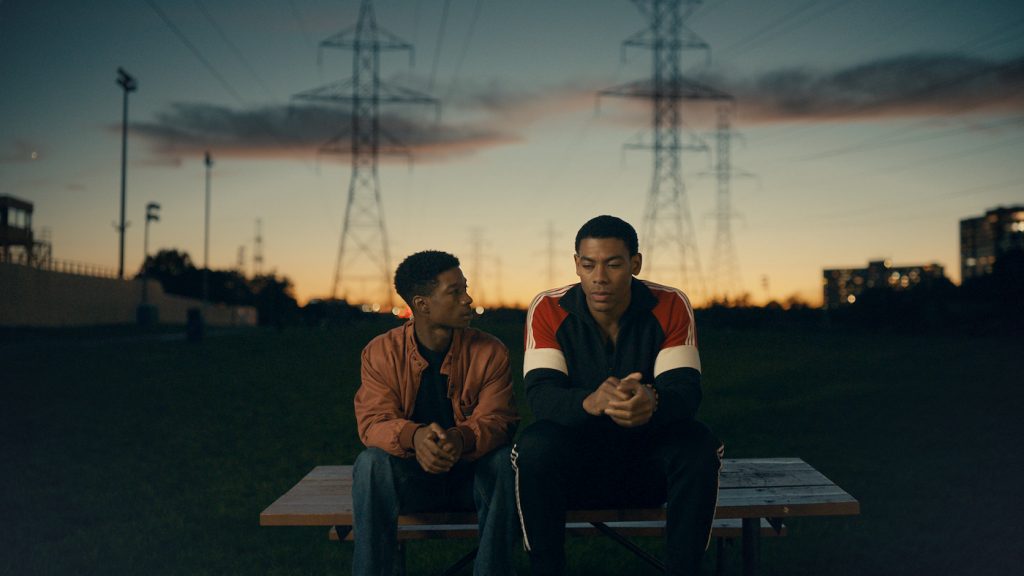 You made one crucial change in your adaptation, switching the brothers from Trinidadian to Jamaican immigrants. Can you talk about that a bit?
I didn't want to have to think about it. I didn't want to intellectualize it, I just wanted to make choices in the moment that felt intuitive. I think that's the hardest thing, as an artist and a writer, is to get to a place where it's just pure impulse and instinct. With my background, being born and growing up in Jamaica, I didn't have to think about the details, I just had to recall and try to communicate and be as specific as I could. I've never been a schoolboy in Paris in 1963, but when you see The 400 Blows, it's so specific to that experience you recognize your own humanity in that story. I'm trying to communicate a collective humanity, and the more specific I am to my own experience, the more it will hopefully translate, and you'll see your own humanity in my story.
Let's end with the recurring motif in Brothers, which is Francis and Michael climbing the electrical tower. Can you tell me about filming that?
We filmed it here in Toronto, there's a decommissioned hydro tower weigh station where there's no electricity. We got permission from the provincial government to go in and be able to shoot there. We couldn't climb the tower for real, so it's a combination of the real space and what we built on our own and with CGI to create that sense of height and jeopardy. But that image is how David Chariandy starts his novel, and I thought it was a beautiful metaphor for the brothers to use that as a visual motif. I'm assuming the audience is going to think something dreadful is going to happen when they're climbing that tower, but of course, you try to twist that expectation. They get to the top, and it's like looking out into the future. It's a MacGuffin, like Rosebud in Citizen Kane or the Lost Ark in Raiders of the Lost Ark; when an object or piece of architecture has meaning in a film, I always find that quite powerful. Like in Mad Max: Fury Road, the image of Charlize Theron falling to her knees in the middle of the desert after that long journey, with the wind blowing sand around her. When I make a film, I think in images.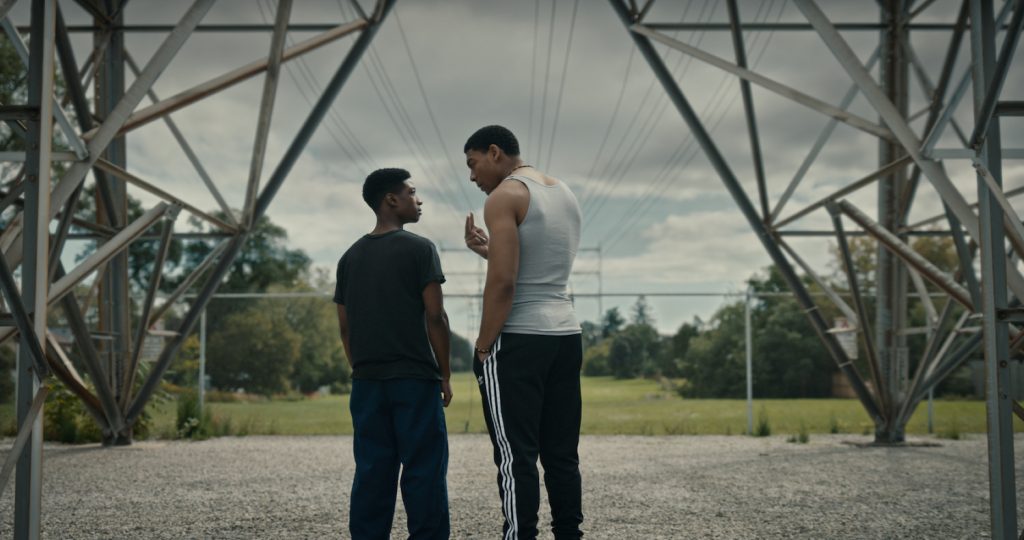 Featured image: L-r: Lamar Johnson and Aaron Pierre in "Brother." Credit: Guy Godfree
This article was first published on THE CREDITS